Caring for a Sibling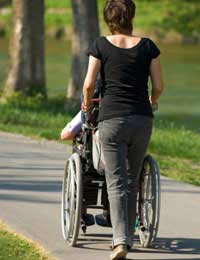 Some siblings may grow up expecting to care for one another, for example if one sibling has special needs, but other siblings may step in to help after an unexpected illness or injury.  Regardless of how long siblings have to get ready for this dual role, all should recognise and identify that they are indeed carers.  Thinking back to childhood and talking with all siblings can help adult siblings more successfully take on a caring role.  Siblings under 18 years of age are considered young carers and can find external support for their caring roles as well.
Identify as a Carer
Some siblings may think that it is just part of being a family that they care for each other when they need it.  This may be true, but it doesn't mean that they are any less carers when they agree to look after their own siblings.  Identifying as a carer can help an adult sibling come to terms with the new roles and responsibilities (s)he undertakes in his or her sibling's life.  It will also help him or her access external support. Support groups may be available for carers or family members of those with certain illnesses or conditions, and carers may be entitled to benefits or services from local councils, health authorities or social services. Identifying as a carer is important for those inside and outside of the family to understand a sibling's dual role.
Consider Childhood
Some siblings care for other siblings who are unable to express their wants or needs. It can be frustrating to have to guess all the time, but thinking back to childhood may help carers decide what would be best for their adult siblings. A favourite activity, food, song, film, person or place may not stay the same into adulthood, but it might provide all siblings a nice trip down memory lane. Drawing particularly on memories involving siblings could help rekindle or solidify a relationship. Focusing on the positive aspects of the past in order to create a positive present or future will no doubt be appreciated by all involved.
Talk With All of Your Siblings
If there are more than two siblings in a family, all siblings should be contacted when one sibling decides to care for another. Not only is it important that all siblings are aware of the situation, but that they all have the same information about their loved one's illness or condition and they all have the opportunity to offer help and support. There may be reasons that some siblings are not best suited to caring, for example location, money or temperament, but there may still be ways that they can contribute. Offering cover for a carer, taking over specific tasks or running errands are activities other siblings can undertake to help the family care for a loved one.
Siblings as Young Carers
Young carers are those who are under the age of 18 and take on responsibilities for someone with an illness or disability. Generally these responsibilities will limit the young person's life in some way, from restricting his or her social life to curtailing an education to influencing a career choice. Young carers often cook, clean, shop and provide personal and even health care for their siblings. Recognising themselves as young carers allow these children to find support. For example, the Princess Royal Trust for Carers runs YCNet to help young carers find information, advice, support and connections. Finding strategies for caring while they are young may help carers better transition to being an adult sibling of someone in need of care when they are both adults.
Caring for a sibling is not always easy, but many siblings feel that helping each other is just what family does. Siblings caring for other siblings must remember to identify as carers, and may discover that thinking back to childhood and keeping all siblings well-informed of the situation helps them with day-to-day decisions. Young carers should also recognise their role and seek assistance as needed.
You might also like...