Could I be Exempt from Paying Car Tax?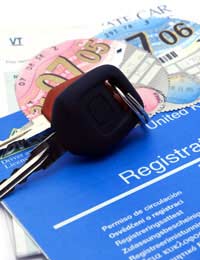 Q.
I have had four operations on my lower spine which prevents me from walking more than 100metres before I am in severe pain. My Doctor is aware of my condition. I understand I could qualify to be Exempt from paying tax on my Car. could you advise me how I go about claiming
(Mr George Oakley, 28 November 2008)

A.
It is possible that you are eligible for exemption from paying tax.
Exemption from Paying Car Tax
Broadly speaking, if you fall into one or more of the following categories you should be eligible for an exemption from paying car tax:
You are a disabled person, claiming the higher rate of the Disability Living Allowance mobility component
You are in receipt of a War Pensioners Mobility Supplement
You have an invalid carriage
The vehicle which you claim exemption from paying tax on must be registered in your name or the name of a nominee.
To be eligible for car tax exemption the car which is exempt must be used only for you, for example to aid you with shopping, visiting a doctor and getting to family and friends. If the car is registered in the name of a nominee they must also only use the car for your purposes and not any personal errands or outings.
Getting an Exemption Certificate
You'll first need to apply for an exemption certificate and if your application is successful, you'll be issued with a free tax disc.
You should apply for this exemption certificate from whoever issues the relevant benefit to you.
If you claim the Disability Living Allowance mobility component at the higher rate you should contact the Disability Living Allowance Unit in Blackpool. The number is 0845 712 3456.
Those claiming War Pensioners Mobility Supplement need to get in contact with the Service Personnel and Veterans Agency. The number is 0800 169 2277 and the office is based in Lancashire.
Once you have been issued an exemption certificate you can claim your free disc at any Post Office and renew it as you normally would each year.
Vehicles Not Requiring an Exemption Certificate
In some cases you may be able to get a free tax disc without having to apply for an exemption certificate.
If you have an invalid carriage or a motability contract hire vehicle you should be able to get a free tax disc without applying for an exemption certificate.
If you have an invalid carriage that weighs less than 113 kg, you don't need to display a tax disc. For vehicles over this but under 509kg, you'll need to fill in a form – ask at your local post office or call your local DVLA office.
When you hire a motability vehicle, the organisation will organise a free tax disc for you.
You might also like...
Are you exempt from car tax if you receive higher rate Attendance Allowance
Mags
- 14-Jun-21 @ 8:57 PM
My mother has had several strokes, is wheelchair bound and has to be hoisted everywhere. She has multiple health conditions and is in constant pain. She has a specially adapted vehicle to enable us to push her wheelchair directly onboard so that we can take her out of her care home for short rides.This vehicle is used solely for her use. She cannot get in or out of a normal vehicle.Yet... she does not qualify for free road tax.Although she is disabled, and the vehicle has been modified for disability use, she is over pension age and, therefore, does not qualify. If she was under pension age, she would qualify. This is purely age discrimination.
Exasperated
- 15-May-21 @ 1:16 PM
Hi, I receive the higher rate of mobility and get free road tax. I understand that my wife can drive our car if I am in it or she is doing something for me. Can I get any relemif on the car tax so she can do things for herself rather than me sitting in the car while she does her own shopping
Mal
- 18-Mar-21 @ 1:12 PM
Hi. I am a carer for my mother. How do I apply for tax exemption on my car please (its my first time applying)
Karlos
- 5-Jan-21 @ 3:31 PM
I receive free car tax but my car has broken down can I put my free car tax on my wifes car as she cares for me
jonjo
- 1-Jun-20 @ 7:45 AM
Hi I'm a carer for my mum can I get for car tax or money off I use my car a lot for my mum but have children so use car for school etc.
Clare
- 24-Apr-20 @ 7:57 PM
My mother is 82 year old and I am her carer and she gets full aa can I get help with my road tax as I take her to hospital and shopping and to the doctors
Gill
- 3-Nov-18 @ 4:31 PM
Aman - Your Question:
Hi my son receives middle rate dla can I get a free road tax or a reduced rate road tax?
---
Our Response:
You can see more via the link
here
, which may help answer your question.
TheCarer
- 19-Jun-18 @ 12:57 PM
Hi my son receives middle rate dla can i get a free road tax or a reduced rate road tax?
Aman
- 18-Jun-18 @ 11:52 PM
Hi my daughter is autistic and also has muscular reflex disorder.we recive middle rate of disability living allowance. Would I be entitled lower road tax .
Miranda wylie
- 6-Jun-18 @ 11:10 PM
i am a blue badge holder and receive the high rate attendance allowance can i receive help with my car tax
batty
- 2-May-18 @ 8:41 AM
Hi my neighbour is disabled and have no car but won't to get free car tax for her daughters car so she can take her around to hospital ect.Her daughter works can she do this .
Gilly55
- 24-Jan-18 @ 11:04 AM
I am a career for my son but my partener has the car I don't drive would we still be able to claim the free car tax
lee
- 30-Dec-17 @ 7:44 PM
I am on middle rate mobility.Do I get 50% off my tax . I heard i can .
Mags
- 11-Nov-17 @ 1:29 PM
i gey the higher rate of attendance allowance and my friend said today i should get free car tax i have had 2 major ops this year one on my neck and one on my spine
Hi ,my partner is disabled and receiving free road tax ,she can drive herself most days but sometimes when she's in pain I need to drive for her . My question is ,if I'm registered as her nominee for free road tax and the vehicle is also registered to me on the v5 but we are both insured to drive is she allowed to drive the vehicle as I'm the nominee? Thanks.
Paulyboy
- 5-Nov-17 @ 9:13 PM
I'm glad i found someone who is to find help as i do.I got disability my self middle rate allowance needs to know if i could get a tax excumption to help me to keep the car if i could get some finiancial help.
Raj9
- 2-Sep-17 @ 1:49 AM
I live wth my mam of 80yrs old and im her carer she claims high attendanc allowance could i have help with car tax for takeing mam everywhere docs hospital or just occasanilly out.
Taffy
- 19-Apr-17 @ 8:39 AM
My dad cannot walk now he has carer's coming in every morning to give my mum and lift .I have my own car but do all there running about shopping hospital doctor trips I was wondering if I can claim for a reduction in my road tax through my dad being disabled ?
Wakey
- 1-Mar-17 @ 10:28 AM
I have returned from living abroad to live and look after my 91 year old mother. I am living with her full time. She receives attendance allowance. Is she able to use that benefit to employ me privately as her career? Thank you.
I get high disability low mobility can I get tax or a car
Trist
- 20-Sep-16 @ 3:41 AM
Concon - Your Question:
Am I entitled to car tax discount I'm a carer for my 92 year old mum.
---
Our Response:
You can see whether you qualify via the Turn2Us link
here
.
TheCarer
- 27-Jul-16 @ 11:14 AM
Am I entitled to car tax discount I'm a carer for my 92 year old mum . .
Concon
- 26-Jul-16 @ 3:44 PM
My brother is severly disabled and his wife is disabled tooi have been helping them both allthough his wife has a carer she cant do a lot for himI go to hospital 3 times a week with my brother for his dialasis. I am 66 years old very fitI work part time too. But now would like to spend more time helping him. Can i register to be his paid carer?
cookie
- 3-Feb-15 @ 5:33 PM
I am a carer for my daughter who has a d h d as such I receive a small carers allowance, do I qualify for free or cheaper car tax, for taking her to doctors,school. etc.
knobend
- 21-Feb-14 @ 10:29 AM
I am carer for my 93 year old mother, I have a car which is used a lot to ferry her to and from hospital and doctors appointments and also to take her shopping and out for drives to give her a change ofscenery, am I entitled to any help with the running of this car. I am on a state pension and find money a bit tight sometimes so any help I could get with tax, petrol, insurance or running costs in general would be a great help
Patsy
- 28-Jan-14 @ 7:34 PM
Am looking into doing private caring more of the independent type of caring ie personal assistant, companion,shopping etc i am currently a carer working for a company but want to branch out on my own giving one to one care. i have a nvq 2 qualification but now need to know what to do to get myself up and running. Hope someone can help
Tracy
- 26-Aug-12 @ 1:33 PM
I went through a similar situation with motorbility car road tax etc when my 69 yr old Dad was terminilly ill with prostate cancer 8 yrs ago,he had worked all his life paid into the system but before he died got nothing in return.I have cared for my 29 yr old daughter for 7 yrs,raised my grandaughter for 8 yrs since birth also cared for my Mum who is 82 for 3 yrs....i get nothing but carers allowance for one of them & a tiny amount of benefit,which dosent even cover my weekly shopping let alone bills & petrol i use to get around docs,hospitals etc with my very ill family,the whole system needs a good shake up..
kaz62
- 24-Aug-12 @ 3:32 PM
My mother had a massive stroke on February 20th 2011 at the age of 67. She had previously been on mid rate carers DLA but now her beneifts ( bar the £22.60 that she is allowed to keep goes to the Nursing home towards her care fees. Im in the process of purchasing a wheelchair accesible vehicle specifically to get mummy out and about a bit more. Im keeping my own vehicle which is for commuting and my own personal needs. I was stunned to find out this mornign from DLA that I am not entitled to a free tax disc eventhough this vehcle is for my mother who can not walk or talk anymore and therfore considered in medical terms to be "severly disabled". The reason DLA gave me is that "she is over 65 and was over 65 when the stroke occured and its considered that she woudl have mobility issues anyway at that age". Had it happened prior to her 65th birthday she would have been entitled to it indefinately and also to proper nursing care in her home not just 28 hours a week of general help. Its digusting that in this day and age when people commonly live well into their 90s that my mother, who gave her career to nursing and others like her who need something to encourage them to keep going are lliterally written off. And here I am undergoing a 120mile return commute to work and pay NI contributions to be denied any help for my mother who I just wanted to get home to care for.UNBELIEVABLE!
Dee
- 24-Jul-12 @ 11:12 AM