Caring for a Spouse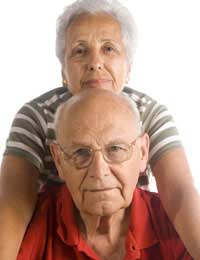 If your spouse or partner falls seriously ill perhaps as the result of an accident or neurological disease such as multiple sclerosis, they may require care for many years. This changes the balance of your relationship; it is no longer one where each partner can give and take in equal measures. One partner becomes cared for and the other becomes the carer. If you become your partner's carer, in addition to dealing with the day-to-day care, you may also be having to come to terms with the loss of the future you planned as well as the loss of a friend, lover and co-parent. These dramatic changes would place a tremendous strain on any relationship and you may need outside help.
Emotional Support
If your partner is suffering from a recognised illness, counselling services may be available from organisations that support the specific illness. Alternatively, there are organisations that can give you advice in helping you understand how your partnership has changed and dealing with the difficult issues that surround it. Depending on your partner's condition, they may be able to work with you both to find out how you can still function as a partnership despite your changed circumstances.
Coping With the Care
When you first met your partner, it is unlikely that you ever considered that one day you would become their carer. As a result, not only has your relationship changed, but also your social life and quite possibly your income too. It is therefore no wonder that at times, you will resent the position you are in and think you are selfish for having such negative thoughts. Don't. Remember that you didn't choose to become a carer, your emotions are perfectly reasonable and you need to respect them. Having to perform intimate tasks for your partner may affect the way you feel about them. Sexual desire may start to feel inappropriate or even distasteful. Here again, you may wish to seek counselling to explore these difficult feelings.
If you are no longer able to work, make sure that you have applied for any benefits that you are entitled to. Don't assume that someone will tell you about what you can get, check for yourself.
Share the Care
Caring is both physically and emotionally exhausting. For your own welfare (and ultimately that of your spouse), you need to get a break. Speak to your partner's doctor to arrange a Care Assessment and obtain any help available through the NHS or Social Services. This may be in the form of care workers coming into your home daily to help with bathing, dressing and feeding. You may also discover that there are suitable day centres nearby that can offer a change of scenery for your partner at the same time as giving you time to do something for yourself.
In addition, if friends or family offer to sit with your spouse or do some errands for you, don't be too proud to accept their support. If you don't, they may think that either you are managing wonderfully on your own or simply don't want others to help.
You, Your Spouse and Your Children
Inevitably, if your spouse needs caring for, it will affect their relationship with your children. And if you need to spend a lot of time looking after your partner, it will affect the amount of time and attention you can give to your children. If they are old enough, you may think it appropriate for them to help in the caring, but don't underestimate how much your partner's needs affect your children.
Remember that you too need support. There will be carers groups that meet regularly and close to where you live. Your doctor's surgery will have details about them.
You might also like...