Caring For Someone and Work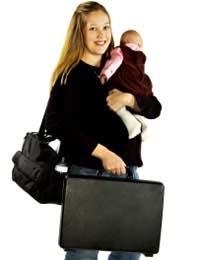 It can be very difficult to look after someone at home and work at the same time. However, if you stop working, not only will you suffer financially but the social contact and status that that a job bestows will also be withdrawn. As a result, wherever possible, it is advisable to try and continue with outside employment and maintain a life of your own.
Tell your employer if your caring responsibilities become more onerous, whether you are having more problems with an aging parent, a young member of the family or loved one. An understanding boss will make your life easier, but if they don't know about your home care responsibilities, they cannot help. Some large organisations have members of their human resources departments who can offer specialist advice to carers and some unions may also be able to offer support on what help is available. However, you do have some legal rights as a carer who also works outside the home.
Flexible Working Hours
If you have worked for the same employer for at least 6 months and have a child who is under 6, a disabled child under 18, or you are the primary carer for another adult, you can ask for flexible working hours as follows:
1. Variable work timetable - perhaps offering different starting and finishing times depending on your caring needs.
2. Less breaks during your shift and thus a shorter working day.
3. An annual working contract.
4. A job share or part-time contract.
5. Home or tele-working where appropriate.
6. Absence from work during the school holidays.
If any of these things would help, you should write a letter to your employer explaining what you would like and why. You can only make one request each year, but if your request is agreed, it will be a permanent change to your working contract.
Emergency Time Off
If you have an emergency involving someone who is dependent on you, a 'reasonable' amount of time off work must be offered. However, it is up to your employer whether or not the leave is paid or unpaid. The following are examples when such time off may be necessary:
1. Your care arrangements have been disrupted.
2. Your loved one has fallen ill or had an accident that has upset you.
3. Your child has had a problem at school.
4. You need time to change care arrangements.
5. Your loved one has died.
Parental Leave
After being employed by the same employer for a year, if you look after a young child, you can take up to 13 weeks parental leave before the child reaches 5. If your child is disabled (and you get Disability Living Allowance), your entitlement is 18 weeks before the child reaches 18. Both parents are eligible to ask for this time off.
This leave can usually be taken in blocks of up to four weeks a year. If your child is disabled, you can take the leave on a daily basis, but otherwise it should always be in minimum blocks of a week. Payment is not usually made during parental leave.
Other alternatives
If your loved one needs extra help at any time, you can usually ask for additional unpaid leave or use your holiday entitlement. If you find yourself struggling to maintain your job, ask the social services department for a Carer's Assessment or ask for a re-assessment if you have already had one. If your job is at risk, they are under an obligation to treat your case as a priority and must do what they can to help you continue in employment. It is not in the government's nor society's interest for carers to stop working and claim benefits rather than continue to contribute to the system through tax and national insurance payments.
You might also like...
Some useful information regarding working hours. Thank you
James Jones
- 15-Apr-11 @ 3:51 PM