The Importance of a Care Assessment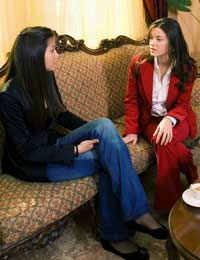 Anyone who is either aged 18 or over and cannot live independently, or looks after someone over 18 who cannot live independently, can ask their local social services department for a Care Assessment. Generally, people who fall into any of the following categories will be eligible for a Care Assessment to ascertain what community services are available to help them.
Disabled through illness, accident, disability or old age.
Blind or impaired sight.
Deaf or impaired hearing.
Carer of someone who falls into one of the above categories.
Why have a Care Assessment?
Looking after someone who cannot look after themselves is an arduous, time-consuming and frequently thankless occupation. Even if you love someone dearly and don't mind undertaking personal and intimate care tasks on their behalf, you should seek a Care Assessment for your own well-being and that of your loved one. Caring is often a solitary occupation and your life will become increasingly insular if you don't have social contact with people other than your loved one. Also, unless you are a health professional, you will have little idea of whether the care you are giving is always appropriate. Over time, without sharing the care, you may seriously strain your back, become ill and depressed. If that were to happen, you would be of little use to your loved one.
How to Arrange a Care Assessment
You are entitled to approach the social services department yourself and ask for an assessment of your loved one's needs as well as your own (a Carer's Assessment as opposed to a Care Assessment). Alternatively, many people approach their doctor or district nurse and ask for them to make arrangements with social services. There may be a delay in setting up an appointment for the assessment, but if you are worried about your own health and well-being or that of your loved one, you should make clear that the appointment is urgent. In preparation for the assessment, you should write down all of the things that you do to care for your loved one. Where possible, involve them in this – they may think of things you do for them that you have forgotten.
What happens at the Assessment?
A social worker will make the assessment but may be accompanied by other professionals if appropriate; for example a nurse or doctor if there are medical implications or an occupational therapist if there are mobility issues. The aim of the assessment is to see what help may be supplied to make your life and that of your loved one easier, so be as open as you can in explaining your daily routine and the problems you encounter. Don't underestimate the amount of work you do or the demands of your loved one; it is important that the social worker gets the full picture.
What happens after the Assessment?
The social worker will judge what help may be provided through community services. This could involve professional care workers coming in regularly to give you a break, meals on wheels provided by a local charity or your loved one spending a few sessions a week at a day centre.
These services would not necessarily be free of charge and any contribution would depend on your loved one's income and ability to pay. However, even if your loved one was deemed capable of paying all of the costs, it would still be the local authority's responsibility to organise the services on their behalf.
As a carer, you should not underestimate the value of a Care Assessment, and if circumstances change, a re-assessment. You may be a carer for many years and although now, you feel you manage well alone, in the future you may feel differently. Your loved one would soon get used to a change in routine and help from outside sources which would be of benefit to you both.
You might also like...