Discussing a Loved One's Needs With Others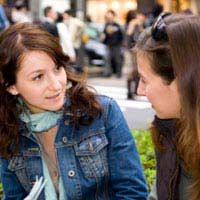 When you care for others you necessarily become an expert on those people's needs. You come to understand their physical health, mental health, typical emotions and reactions, as well as general likes and dislikes. At some point you will likely need to discuss your loved one's needs with others including other relatives, local authorities or medical professionals.
If your loved one has requested you not speak with anyone else and you feel you must, consult a solicitor or social worker about your specific circumstances. When you are sure about speaking to others, remember to respect your loved one, present the facts, ask for what you need and plan for further communication.
Respect Your Loved One
When discussing the needs of others it can be very easy to treat them as objects in a misguided attempt to remain detached. Some people may also find the opposite true, that they care so much they end up talking about loved ones as if they were children. When you discuss the loved ones for whom you care, show your respect by calling them by name, using medical/clinical vocabulary to name and explain health concerns, and objectively present their preferences as well as your thoughts on their health, bodies, living conditions and future plans.
Present the Facts
Avoiding exaggeration by presenting only the facts of a matter is a good way to establish yourself as a reliable source. In order to truly alert others to your loved one's needs you'll need to give them the context of your loved one's life. Be sure to mention:
Diagnosis and prognosis, as explained by medical professionals.
Current medications and dosages.
Recommended products or plans from medical professionals or local authorities.
Monetary budgets and other aspects of an individual's wealth or estate.
The living situation of your loved one, including if (s)he lives with others or alone.
How your loved one gets about, including as a pedestrian and when transportation is needed.
Outside of the house activities your loved one attends, or would like to attend.
Preferred past times and hobbies your loved one enjoys, and why (if relevant).
Ask for What You Need
Most carers discuss others' needs either to give people updates or because they need some sort of assistance. If you need help don't be afraid to ask for it. Once you have set up the context of your loved one's life you can easily segue into what you need and how it would benefit both your life as a carer and your loved one's life while being cared for. If you are willing to make adjustments, seek further information or begin a process in order to gain someone else's help, make this clear as well.
Plan for Further Communication
It's not easy to discuss a loved one's needs with others, particularly if you feel as though you are somehow being disloyal to your loved one by doing so. If your heart is in the right place, however, and your motives are pure then you can be sure you are acting for the best possible reasons. Once you have spoken with others, plan for future communication to update them about a situation, ask for more assistance or establish a relationship which will enrich everyone involved. Exchanging mobile phone numbers, agreeing to regular email updates or setting up visits and appointments are all excellent ways to establish more consistent communication.
For many carers discussing a loved one's needs with others is a very hard step to take. Respecting your loved one, presenting the facts, asking for what you need and planning for further communication should help you get through such conversations with confidence and success.
You might also like...