Arranging for a Carer's Assessment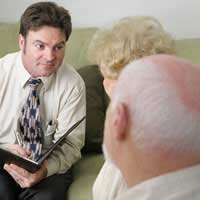 If you look after someone you can request a carer's assessment from your social services department. It doesn't matter if the person you care for currently has had an assessment for their care needs or not. It also doesn't matter whether or not they receive additional benefits due to their illness or disability. Your assessment will usually be undertaken by a social worker to discuss how you can be supported in your caring role.
Who Arranges the Carer's Assessment?
You can ask your GP or district nurse to contact social services on your behalf.Or the telephone number and address of the social services department will be listed in the phone book under the name of your local authority and you can contact them yourself. A local authority cannot refuse to carry out an assessment although if they do not perceive that it is urgent there could be a long delay. If you need more support in your caring role, you should be persistent in getting hold of the person responsible for the assessment and pester them for an appointment. If you are looking after someone else, it is important that you have your own needs assessed.
Prepare for the Assessment
Make a list of everything you do to help look after the person you are caring for. If appropriate, involve the person you look after as they may think of things that you have missed. It can also be worthwhile showing the list to a partner or other family member to see if you have forgotten anything. Have a copy of the list ready to give to the social worker when they come to visit.
Think about services that would help you. This may include:
Equipment or adaptations for the home
Someone to help with personal care
Meals on wheels service for the person you care for
Regular respite care
Counselling
Contact with local carers' groups
Information on eligibility for a Carer's Allowance or other benefits
Remember that the carer's assessment is aimed at making your life easier in providing help and support for the person you are looking for. The enormous amount of work you undertake for your loved one saves social services and the NHS a vast amount of money each year so don't think that by having the assessment, anyone is doing you a favour. The assessment should be carried out in a convenient place for you, such as your home or the home of the person you are caring for.
The Carer's Assessment
Normally one person will carry out the assessment and it is good to include the person you are caring for. However, you are entitled to talk confidentially to the social worker carrying out the assessment without the person you are caring for being present. It may be tactful to arrange a time for this in advance of the meeting.
The assessment will look at things including:
What kind of help and support the person you are caring for needs
What kinds of things you do in caring for them
How much time you spend caring and who else cares for the person as well
Whether you live with the person you care for or not
Your views, preferences and the amount of support you already have
Your health and well-being
Your financial management
Tell the person carrying out the assessment if you are in full-time employment or wanting to return to work, and whether you have children.
If either you or the person you care for has difficulty communicating, you should let social services know and they will provide help.
After the Assessment
Keep in touch with the social worker and inform them if your circumstances change. Make sure that any arrangements made are carried out and if you are eligible to claim for a carer's allowance, that you have made an application.
You might also like...