How To Get Help as a Carer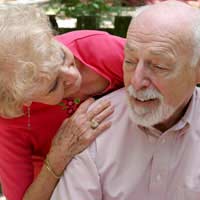 Being a carer is an arduous long term occupation and you should try to share the burden as much as possible. Cooking cleaning, shopping, feeding and bathing are some of the tasks that you can share either with paid help or with other family members. If a friend of neighbour offers to sit with your loved one to give you a chance to do something else, say yes. Otherwise they may think that either you are managing very well alone or don't want their interference and so won't offer again.
Your Loved One's Objections
One common reason why carers are reluctant to accept help from others is that the person they care for refuses anyone else's involvement. This is OK if you are superhuman and don't ever need any time off, never become ill, short tempered or tired. But as you are only human, if you don't insist on sharing the care, you will eventually become ill and unable to care for your loved one at all.
Given that you love the person you care for and do not wish to cause them any additional pain, this can be a very difficult message to put across. Nevertheless, it has to be done for their benefit as much as your own. Perhaps you can be completely honest with them and explain that if you don't get some time off, eventually you won't be able to carry on. Agree that it isn't ideal for others to be involved, but that it is the only way you will be able to continue. If this sounds too harsh for your loved one, an alternative is to say that you have been to the doctor who has firmly told you that you must have a break; that there is no choice.
A change of face from time to time would be good for your loved one anyway, and once they are used to other people caring for them some of the time, they may even look forward to it.
What help is available through Social Services?
Initially, you should arrange for a care assessment of your loved one by the local authority. A care plan will then be drawn up of your loved one's needs taking into account what you can reasonably continue to do. Depending on your loved one's financial status, the services required will be paid for by them, by social services or jointly. Services may include:
Paid carers either employed by a private agency or by the local authority who visit on a regular basis to help with washing, dressing, toileting, shopping or housework.
Provision of meals on wheels from a local charity like Help the Aged.
Provision of a place in a day centre.
Provision of residential respite care.
Other Sources of Help
Whether your loved one is a friend, neighbour or family member, there are bound to be people other than yourself who are in a position to lend a hand. A rota could be drawn up for different people to visit daily and sit with your loved one for a couple of hours, or maybe someone could come once a week to do some gardening, cleaning or do a big shop. People like to help and you wouldn't be giving over the caring to others, you'd simply be keeping a little more of your life for yourself.
You might also like...