Qualifying For and Obtaining Pension Credit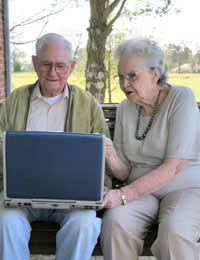 It is estimated that more than two billion pounds is left unclaimed by people over 60 years of age. A large proportion of this money is made up of the Pension Credit benefit that tops up older people's incomes.
Who Can Claim Pension Credit?
If you are aged at least 60, or your partner is over that age and you have a low income, you may be eligible to claim Pension Credit. The benefit is made up of two components: Guarantee Credit is available from the age of 60 and once you or your partner reaches 65, you may be able to claim the second part of the benefit, Savings Credit.
What Is Guarantee Credit?
The Guarantee Credit benefit is paid to people to bring their income up to the minimum that the government considers necessary to live on. If your weekly income is less than:
£119.05 if you are on your own, or
£181.70 as a couple, you should be able to claim for the Guarantee part of Pension Credit to bring your income up to these amounts. A couple includes partners of the same sex.
If you are registered as disabled or as a carer, you may get an additional payment to the figures above which are applicable to the year 2007/2008. On the other hand, if you have savings of more than £6,000, you may get less. But it is always worth applying.
Savings Credit
If you or your partner is 65 or over, you may be eligible to receive an additional payment to that mentioned above. This part of the benefit is aimed at people who have a higher income than that provided by the basic state retirement pension or have some savings. Some people can be eligible for Savings Credit when they have been unable to claim Guarantee Credit. Others are eligible for both benefits at the same time. As a general rule, if your weekly income is:
More than £87.30 but less than £166.68 if you are on your own, or
More than £139.60 but less than £244.85 as a couple, you should be able to claim for the Savings part of Pension Credit.
However, if you are severely disabled or a carer, you may get an additional payment to the figures above which are applicable to the year 2007/2008.
How is Pension Credit Claimed?
The easiest method of claiming Pension Credit is by phone on 0800 99 1234 or 0808 100 6165 if you live in Northern Ireland. You do not need to fill in the form or visit an office, someone will complete the form on your behalf and post it to you for signature. However, before making the phone call, make sure that you have your national insurance number and details of your income and savings close to hand as this information will be required.
If you are eligible to receive Pension Credit, you should also be able to receive help to pay your Council Tax and if you get the Guarantee Credit part of the benefit, the Council Tax should be paid in full. You may be able to get part of your rent paid as well as help with optician and dental treatment costs. In the winter, you may also receive the added benefit of £8.50 per week when the temperature falls to freezing and below.
You might also like...
I will be 61 this april I receive £1.67 esa and £31.67 industrial injury benefit my wife works part time can I claim pension credit
al
- 26-Mar-13 @ 12:50 PM
Having been eligible to retire @ age 55 from my post with the NHS. I receive now I-am 60 £789.55 a month. My Wife has taken retirement from her post with the the NHS. Her pension is £200.09 a month. Our combined income is £989.64 a month, do you know if we may be eligible for pension Tax credit. OR any help with health costs.Kind RegardsMr & Mrs D Routh
Laird
- 11-Nov-12 @ 7:19 PM
my dad is aged 60, please can you tell me is he untitled pension credit, thank you.
dad
- 27-Aug-12 @ 3:15 PM