Travel, Holidays and Insurance for Carers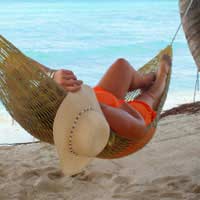 We all need a break every now and then that offers the chance to get away from our daily routine. This is the same for you and also for the loved one you care for. You may be nervous about leaving them, but it may do you both good to have a break from one another. If they cannot safely be left alone, ask for another family member or friend to come and stay while you are away. If they need a lot of care or have a specific medical condition, it may be appropriate, following a care assessment, to arrange for a stay in a residential home or hospice for them in order to give you the chance of a holiday. Alternatively, you may wish to arrange a holiday for or with them. Whatever their disability, with prior thought and organisation, a variety of alternatives may be appropriate.
Travel
Public transport providers in the United Kingdom have a legal obligation to provide facilities for people with a disability. Nevertheless, it is a good idea to let the transport provider know that you plan to take a journey with your loved if there are mobility issues. All major train stations and airports have disabled facilities and ferry ports too have access arrangements for wheelchairs.
Holidays
Numerous organisations specialise in arranging holidays for people with disabilities, including learning disabilities. In the UK, there is a wide range of family holiday centres with special facilities designed to make life easier for disabled people and their carers. There are also an increasing number of holidays abroad designed for people with mobility issues, including adventure tourism. It is even more important when travelling abroad that you make sure that your needs and those of your loved one, are clearly explained in advance. The chance of things going wrong when oversees where there may be problems of language and culture, is greater, and trying to sort things out on the spot may be more difficult. It is probably worth booking through an agency or tour operator that specialises in disabled travel. For more information on different holidays, visit the website: www.tourismforall.co.uk
If your loved one is elderly, there are companies specialising in trips for older and single travellers, such as www.saga.co.uk. These may be organised round an activity such as painting or walking or may offer tours of historic or geographic interest. Holidays are also available that include care services through organisations such as www.yourable.com
Insurance
Within the European Economic Area and Switzerland, British travellers are entitled to the same health care as the nationals of the country they are visiting. To obtain treatment, you will need a European Health Insurance Card which can be claimed using the leaflet, Health Advice for Travellers, available at major post offices. However, this card does not mean that you will be repatriated if you fall ill, nor does it mean that health services are free of charge. Countries within European community operate different health policies and the EHIC merely offers British visitors treatment on the same basis as it would for an insured member of their own country. It is always advisable to obtain additional travel insurance before visiting any foreign country, ensuring that you inform the insurance company about any pre-existing medical condition.
You might also like...
I have the same question as K here but for my young friend. He is in his 20s and is the main carer for his dad who is bed ridden with emphysema. All insurers seem to assume that you do not know of any reason you might cancel, but the situation is very uncertain. His poor dad has rallied and there may be no cause for my friend to cancel his trip, but it cannot be assumed. I am struggling to find any information from individual insurers for this scenario or carer insurance that doesn't actually include the person being cared for. Any help appreciated, thanks.
bee
- 16-Apr-16 @ 7:25 PM
@K - while we can't usually recommend specific insurance companies, you could possibly go through the registered charity, Age UK, via the link
here
. I hope this helps.
TheCarer
- 26-Feb-15 @ 11:19 AM
My 84 year old mum is a carer for my 91 year old step father. We are trying to arrange a holiday for her, with him staying at home with professional carers. We need to find out if she will be able to get travel insurance from anyone that will cover cancellation of her holiday due to any sudden decline in my step-father's health. Do you have any suggestions? Thank you.