Home Adaptations for the Disabled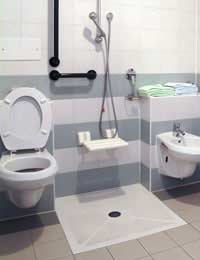 If you feel that the person you are caring for or you as their carer, would benefit from improvements or adaptations made to their home, you can ask the social services department of your local council to do an assessment of it.
What Does the Assessment Involve?
Usually, an occupational therapist will visit to assess what adaptations are appropriate to meet your needs or the needs of the person you care for. If they feel that adaptations would make life easier for them or for you as a carer,, an assessment will be made as to whether or not a Disabled Facilities Grant can be awarded.
Disabled Facilities Grants
Local councils are legally required to award Disabled Facilities Grants to eligible applicants to help make homes more suitable for disabled people. However, the grants are means tested and depend on the financial position of the person you care for. But even if your loved one is not eligible for a grant, it is worthwhile to have the assessment so that the occupational therapist can advise on what adaptations may be appropriate to facilitate everyday living. Disabled Facilities Grants are awarded to owners and tenants in both private and social dwellings up a maximum limit of £25,000. Grants can be used for a variety of adaptations that will make life easier for a disabled person to get into and around their home. It may be used for a suitably adapted kitchen or bathroom, for heating systems or for a means of access to the house.
Specialist Adaptations and Facilities
If the person you care for uses a wheelchair, it may be necessary to build a ramp to the front door instead of steps. Inside, doorways may need to be widened to accommodate the wheelchair and perhaps a stairlift could be installed to help your loved one get upstairs. Other facilities may include:
A powered armchair to help the person stand up and sit down.
A powered bath lift to aid getting in and out of the bath.
A walk-in shower with special wall seat for easier showering.
A powered or manual hoist if the person you care for is unable to weight-bear and needs help to get from one seat or bed to another piece of furniture.
A powered or manual height-adjusted bed.
Powered leg-lifters for people who have difficulty lifting their legs to get in and out of bed.
Personal Alarm Systems
If the person you care for lives alone, being able to summon help immediately in an emergency can offer peace of mind. Personal alarm systems (also known as community alarm services) could be installed for them. They work through a base unit in the home, which is connected to the phone line. By pressing a large button that is on the unit or on a pendant worn around your loved one's neck, they will be connected with an operator who can arrange the help required. This may be the emergency services or a member of their family; equally, it may be a neighbour, friend, or yourself as their carer. Some charities - like Age UK, (www.ageuk.org.uk) - organise personal alarm systems that are used by disabled, older and less able people.
There are a wide variety of different aids and adaptations available for the home on which the Disabled Living Foundation (www.dlf.org.uk) can give further information. The right equipment can make a big difference to your quality of life and that of the person you care for. It can also help them live more independently in their own home. As many of the aids and adaptations can be expensive, it is a good idea to get specialist advice and where possible try out equipment before buying it.
You might also like...