Dealing with the NHS and Social Services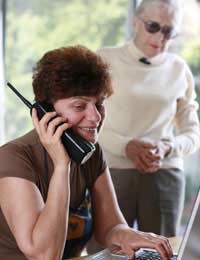 Until you became a carer the chances are that you will have had little to do with either the NHS or Social Services unless you have an on-going medical condition or have needed to apply for benefits. Now however, things are different and from your point of view, the needs of your loved one are paramount. But you have to bear in mind that for the professionals you deal with, no matter how good they are at their jobs, your loved one is just another caseload.
Being Aware of the 'System'
Most professionals in the NHS and Social Services make enormous efforts and are over-burdened with work. They are not antagonistic towards you or your loved one; they simply have to work within the boundaries that are in place. They are charged with making difficult decisions that have far reaching consequences and they strive to do their best. The 'system' is huge and complex and you need to remember the following when dealing with it:
Information is not always shared between different areas of responsibility. Just because you have mentioned something to the occupational therapist, don't imagine that the social worker has been made aware of it.
Before any meeting or appointment, make a note of any questions you wish to ask. Professionals will often only answer specific questions; they won't surmise that you need further information. Don't be shy to ask for more detail.
Unlike you, the professionals rarely work weekends. The Social Services department is obliged to have an 'out of hours' telephone number for emergencies, but will assume that appointments with you will take place during the working week.
Mistakes can happen when people are over-stretched and tired. If you think something has been overlooked, don't be afraid to say so. We all make mistakes sometimes which, by definition are unintentional.
Never assume that the person you are talking to knows everything about your loved one. Volunteer further information if it is appropriate.
The professional's priority will be the person you are caring for, not yourself. Remind them that you are part of the package too – that without your welfare being taken into consideration, the person you care for will suffer.
Finally, remember that the 'system' isn't really a system at all – it is an assortment of different provisions that try to work together. Sometimes they succeed in offering an excellent all-round service, but at other times what they appear to offer makes little sense and is quite chaotic.
How Can You Help?
It is advisable to keep a note book specifically for recording all aspects of your loved one's dealings with the NHS and Social Services. Make a list of every medical appointment, assessment and treatment they receive with details of what was involved. This will give you something reliable to refer to when dealing with any of the professionals subsequently. Remember always that you are central to your loved one's care, treatment and welfare. You are an integral part of the professional team and as part of that team you are owed the same respect and support as everyone else in it even if, unlike them, you are not being paid for the work you do. As a result, if on occasion, you feel that you are ignored or overlooked by the professionals, don't hesitate to remind them that as your loved one's carer, you are probably in the best position to know what services will be most helpful.
You might also like...
Hi my Father is a carer for my mother who is being assessed for Dementia he has been told by the surgery to expect a letter saying that he has to go for a medical exam to see if he is fit enough to look after my mother? I have tried to find this on line but can't seem to find anything can you help please? Thanks Sorry he is 75
Ozzy48
- 7-Feb-15 @ 8:49 PM