How I Found the Best Care Home for My Mother: Case Study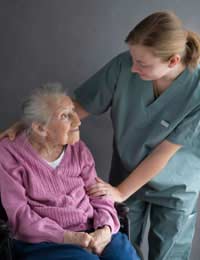 Choosing the right care home for an elderly friend or relative can be a stressful experience. Looking for a new home for somebody else is a huge responsibility, after all. The selection process itself can take a significant amount of time and effort too. To ensure your elderly friend or relative's wellbeing, and your peace of mind, be sure to conduct your research thoroughly and ask plenty of questions. We caught up with Susan Pennington to hear about how she found the right care home for her mother.
Q. How did you begin your selection process? What were your main priorities?
A. Location was key for me. My mother and I had decided that she would move from her home in a small Yorkshire village to a care home near me in Surrey. As her only child, I wanted to be sure I could visit her regularly and keep an eye on her progress wherever she settled. I looked at ten care homes all within a three mile radius of my home and began to craft a shortlist!
Q. How did you whittle down your selection?
A. I soon realised that care for the elderly is very expensive. My mother had £800 a week to spend – a combination of her savings, pension and the proceeds from selling her bungalow - but a few of the homes I looked at were out of my mother's price range, so they were quickly discounted. Whilst my mother was no longer able to live alone, she is still relatively mobile and alert. I was keen for her to live somewhere sociable and vibrant. A couple of the homes I saw were for elderly men and women who needed a higher level of nursing care than my mum or who had particular problems with Alzheimer's disease, so I struck those of my list knowing that mum might find that sort of environment a little depressing or overwhelming. I ended up with a shortlist of four, which I look mum along to see.
Q. Was the viewing process stressful for your mother?
A. Yes and no. Everyone we met and spoke to was so lovely. They were all very welcoming. Mum enjoyed speaking to residents and getting to know some of the staff in the different homes. We viewed all four homes in one weekend, though, which was tiring for her. It also meant that she became slightly confused as to what she'd seen where. Ideally, I would have liked to have viewed one a week but unfortunately we didn't have the luxury of time.
Q. How did you make your final decision?
A. It all came down to facilities and lifestyle, in the end. The care home we opted for provides a nutritious, varied menu. Residents receive breakfast in bed and a three course lunch and dinner each day, with coffee and tea breaks, too. I didn't want mum eating school dinner-type food – I believe that good food is integral to wellbeing and happiness. She also enjoys a good amount of privacy at the home we chose. She loves a chat but is also fond of a bit of peace and quiet now and then. She has a good sizes bedroom in a period property, with lovely views of the garden. She has an en suite bathroom too, which was a priority for her. As well as the main dining room and living room downstairs, there is also a small library room where she can get away from the sound of the TV.
The home's payment plan was also a big draw. I didn't want mum to feel stuck if she didn't like the place we'd chosen. Where she is now, she pays her rent and keep on a monthly, rolling basis. That flexibility was important to us.
Q. So do you feel confident that you chose the right home?
A. I'd say so. No residential home is perfect, though. That's why I'm so pleased to be living nearby and to be able to visit regularly. I make a point of asking mum how things are going and am not afraid to complain or ask for the odd favour if necessary. There was one week when the staff were talking a long while responding to mum's buzzer in the morning, meaning that she was stuck in her room when she wanted to be downstairs socialising. I had a quiet word with one of the senior members of staff and that's all fixed now. We also took time to arrange her room just as she wanted. She has her books, photographs and ornaments around her. Whilst I think we chose the right place, I also understand that things can be altered slightly to fit the needs of the individual. It's important to make the most of that.
Susan did well to rationalise the often confusing process of selecting a care home by viewing and researching a number of homes, then working from a shortlist. Actively identifying her and her mother's priorities eased the task, too. When looking for the right care home for your elderly friend or relative, learn from Susan and ease the emotional burden by maintaining a pragmatic, analytical outlook.
You might also like...