Coming Out Of Hospital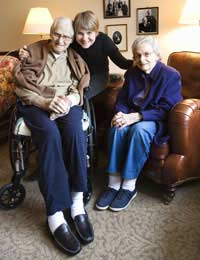 When a loved one you care for goes into hospital it is a time of anxiety but coming out of hospital can also be a time of mixed feelings. Although you will be pleased that your loved one is well enough to return home, both you and they may have some worries about how they will cope. These worries should be addressed before they are discharged from hospital.
What is Hospital Discharge?
The process of leaving hospital is called hospital discharge. The decision that your loved one is to be discharged should not come as a surprise - planning for the time when they leave hospital should begin almost as soon as they are admitted. Every hospital has a discharge procedure that is intended to make sure that every patient who leaves hospital has the support and help they need. One member of staff, usually a nurse, will be responsible for co-ordinating the arrangements and making sure everything is in place before discharge. Arrangements can vary depending on needs and on whether a person is returning home from hospital, or going into a care home.
Hospital Discharge for People Going Home
Some people may just need some basic help - perhaps advice on medication and a letter to their GP. Or they may need help with practical things like arranging transport and preparing their home for their return. Other people need a lot of support and assistance to help them manage at home.
Help for People who need a lot of Support
If a lot of help is required, the local council needs to be asked to make a care assessment. This is so that they can decide what sort of services will be required. Local council social services are responsible for arranging assistance which helps older and disabled people to stay in their own homes. The services that the local council might provide include:
Home help - assistance with general household tasks
Home care - help with personal care, such as washing and dressing
Meals on wheels
Day care - perhaps a place at a local day centre
Respite care - residential care, or care provided in a person's own home, to give you, the carer, a break
Aids and adaptations - to make living at home easier to manage.
Help for People with Fewer Care Needs
Not everyone needs this sort of detailed assessment of their needs. Some people go home from hospital quite able to carry on with some extra help from family, friends or neighbours until things settle down. It is important to talk to whoever is in charge of your loved one's discharge if you or they are not happy with any of the arrangements that are being made. Be sure to explain exactly what your concerns are, as they may be easily solved. But if you feel that your loved one is not going to manage, do say so. It might be better for them to be fully assessed by the social services department.
Going Home
Whatever arrangements are in place, there are still practicalities to consider. You should be told the date and time of your loved one's discharge in advance, so that you have enough time to prepare for their return home. The following check-list will give you an idea of the sort of things you need to think about.
Clothes
Transport
Door keys
Heating and Food
Checking that any community care services are ready to start
Medication and medical follow-up appointments
What if Your Loved Can't yet go Home?
Although your loved one's medical condition has improved, if they are going to need a lot of care and support, it may be appropriate for them to move into a care home. This can be temporary until they are fitter or if their needs are long term, it may be permanent. If their care needs are deemed to be health related, the total cost of the care home may be borne by the NHS. In most cases though, a person's income is assessed to see what contribution they can afford to make to the costs with social services making up the difference.
Remember that the hospital has a responsibility to check that everything is in order before your loved one goes home, and to ensure arrangements are made for them if you or they have not been able to make them yourselves.
You might also like...
@Pat - I have included the Age UK leaflet: 'disability equipment and how to get it', link
here
. I hope this helps.
TheCarer
- 20-May-15 @ 2:47 PM
Who would be the provider of specialised equipment needed to go home from hospital
Pat
- 17-May-15 @ 12:32 PM
My husband and I had been married for nearly 50 years. He was a fantastic husband and father, a real family man. Six years ago he was diagnosed with COPD and until four years ago we could still go on local holidays. though not abroad as his oxygen sats were too low to fly. Three years ago things took a turn for the worst and I became his 24/7 carer, I was 70 years of age, he had 24 hours a day oxygen, wheelchairs, stairlift, urinals, portable toilet, blood pressure monitors, oxygen sats machine nebuliser and mobility scooter. I was up through the night, sleptupside down in the bed as I could not sleep normally due toall the pillows,I moved into the sparebedroom but was called during the night when my husband couldnot breathe.He was in and out of hospital time and time again.I lost three stone and the doctors thought I had cancer but it was stress, I then had chest pains but again it was stress. I prepared all my husbands meals first as he had to have high calorie foods to keep his weight up, so when I prepared mine and sat down, he wanted me to do something so my meal was cold and had tobe thrown away,I even started hearing him call me when hewasn't.I bought two walkie talkies which made things easier as I could take the dog into the garden or hang washing out without popping in and out all the time. He knew where I was all the time as we talked through them and he knew I would not be long.I never left him for more than 5 minutes at a time.It got to the stage that when he called me I snapped back at him telling him 'for gods sake just give me a minute.'Even when he was in hospital he used to wait for me visiting so I could get him a commode, or a urinal, wash him, change his clothes I felt as though I was being suffocated, had tightness across my chest, I was visiting twice a day and sometimes not gettinghome until 10 pm in the evening. When he came home I was up and down the stairs all the time taking his meals as he didn't feel like getting up, showering him and dressing him.I once told him and I will never, ever forgive myself for this, that I wished he was dead,didn't mean it but I was at the end of my tether as I had no-one to help, I could not even claim Carers Allowance as I had a state pension.The last time he was in hospital the staff discussed DNR so we knew things were getting worse.He died the following week in my arms, me telling him how much I loved him.I feel so guilty for being impatient with him and that is all I can thinkabout.If I could have got some help things would have been so different but we were pensioners with too much in savings so we would have had to pay for care and we could not afford it as our heating bills were £500 per month.There should be more help for people of our age and in our position.They give money out left, right and centre to other people but wedid not get any helpat all apart from Attendance Allowance which I had, in the end, togo the our loc
unhappy
- 18-Oct-14 @ 9:23 PM