Carer's Allowance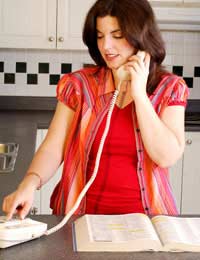 It is estimated that there are more than 3 million people who are at work and who are also carers. For most of these people it is a struggle to maintain a job as well as having to care for a loved one at the end of their working day. Although many of these people enjoy the stimulation of going to work outside the home, the primary reason why they continue to be employed elsewhere is often because they know of the financial hardships endured by carers who have no other paid occupation.
However, if you have been working outside the house and become aware that your loved one's condition is getting worse, you may have little choice. If the time has come where it is no longer safe for them to be left home alone and you perhaps feel that the community care available is inadequate, you may decide to give up work, or at least cut your hours. This is a difficult choice to make especially when you discover how little you will be paid to be a full-time carer. If you continue to do a small amount of paid work as well as looking after your loved one, you should still be eligible to receive a Carer's Allowance. It is the main state benefit for carers and is currently worth £48.65 a week.
Who Qualifies for Carer's Allowance?
To qualify you need to meet all of the following rules. Please check each of them carefully as they are quite complicated.
You must be at least 16 years of age
You must look after someone else for at least 35 hours a week
The person you look after must be in receipt of a qualifying disability benefit
If you do other paid work, you must not earn more than £95 a week
You cannot already be receiving specific other benefits
You must be a resident of the United Kingdom when you claim Carer's Allowance
You must not be in full-time education
Carer Premium
It is worth remembering that if you qualify for Carer's Allowance, you may also be able to get an additional payment called Carer Premium – this is an extra amount of money (up to £27.15 a week) that can be included in the calculation of Income Support, income-based Job Seekers' Allowance, Housing Benefit and Council Tax Benefit. The Carer Premium is not an individual benefit but an extra amount of money included in the calculation of these other state benefits. You cannot get Carer Premium without first having applied for the Carer's Allowance and you must satisfy all of the rules above except the rule concerning receiving specified benefits. If you apply successfully for Carer's Allowance, and you are on Income Support or income-based Job Seekers' Allowance, the Carer Premium should be added to your benefit automatically. If it is not added to your benefit within a couple of weeks of receiving the decision about Carer's Allowance, contact your local Social Security office. Take with you the letter you received agreeing the application for Carer's Allowance.
If you have already been receiving Housing Benefit when you are awarded the Carer's Allowance, tell your local Social Security office. They will recalculate the benefit to take this into account.
You might also like...
New to the concept of being a carer of an elderly in-law, having looked at your, the govt's and other, website (and yours needs updating!), I don't see how the hours stipulated are monitored.Surely this has an opportunity for the benefit, however derisory (£1.65 p/h @ £58.45 p/w, from 4/12!) it is for what is essentially a full-time - 35 hrs - job, to be defrauded.Could you give me a definitive answer?Thank you.
boson2
- 22-Apr-13 @ 10:29 AM