Do You Lead a Healthy Lifestyle as a Carer?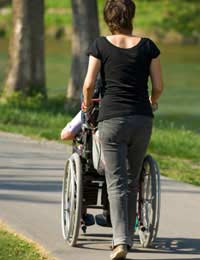 Very often carers stretch themselves so thinly across the many aspects of their lives that they end up living lifestyles which are not particularly healthy. Yet looking after their health is perhaps the best way carers can ensure that they are able to look after others for a long time to come.
We have to put together the following questionnaire to help you reflect on if and how you need to change your life to take better care of yourself. Answer each question honestly, then total your answers and match the total number of "yes" answers to the explanations at the end to better determine if you lead a healthy lifestyle as a carer.
Questionnaire
1. Do you maintain a healthy, balanced diet while you work as a carer?
2. Are you able to eat three meals a day, or five small meals, while you work?
3. Are you able to take consistent breaks during your work day?
4. Do you get at least seven hours of uninterrupted sleep per night?
5. Can you fit at least 30 minutes of exercise into your daily schedule?
6. Do you avoid cigarettes and other tobacco products?
7. Do you avoid consuming excessive amounts of alcohol in one sitting?
8. Do you keep your consumption of processed food and fizzy drinks to a minimum?
9. Do you have proven methods for relaxing and lowering your stress levels?
10. Are you able to drink approximately 8 glasses of water per day?
11. Are you able to socialise with those unconnected to your work on a regular basis?
12. Do you have a confidant who will listen to both your successes and failures?
Do You Lead a Healthy Lifestyle as a Carer?
If you answered "yes" to between zero and four questions then you most likely do not lead a healthy lifestyle as a carer. It may be that your work makes it difficult for you to pay attention to your diet, exercise and personal relationships or you may be creating obstacles for yourself because you feel you are not important as those for whom you care. Whatever the reason, make yourself a priority in the upcoming weeks. Each week choose one of the questions to which you answered "no" and work on changing your answer to "yes". As you do so you'll be creating a better, more healthy lifestyle for yourself that should spill over into positive steps forward in all aspects of your health and life.
If you answered "yes" to between five and eight questions then you may lead a healthy lifestyle as a carer. It is likely that you know what you must do to ensure your physical, mental and emotional health but your work as a carer may present barriers that you find difficult to breakthrough. Review your answers and see if you can spot any patterns, for example that you have great eating habits but little success in relaxing or socialising. Once you know your strengths and weaknesses you should be better able to focus on what you need to do in the future. You might also be able to devise ways to build a healthier lifestyle if you solicit help from others who can offer their assistance so that you don't need to feel as though your work as a carer suffers in any way.
If you answered "yes" to nine or more questions then you most likely lead a healthy lifestyle as a carer. You most likely understand the importance of taking care of yourself in all aspects - physically, mentally and emotionally - and know that only when you are healthy and positive can you provide the best care possible to others. You may find it difficult to give up one or two bad habits, particularly if you fall back on something like tobacco use, alcohol use or consuming junk food in order to treat yourself or deal with disappointments. For the next few weeks try to see this habit as detrimental to yourself and replace these actions with something positive, perhaps a bubble bath, new book or visit to the cinema. Not only will you avoid harming your health but you'll likely enjoy yourself and discover that your stress levels lower as a result of your new indulgence.
THE CARER IS FOR SALE.
This website is for sale [more info].
You might also like...